Help us continue to improve Camp Hope for generations to come...
SUPPORT THE FUTURE DEVELOPMENT OF CAMP HOPE
Our Alumni sponsors keep us strong. With the purchase of alumni merchandise or your alumni donation, we will strive to allow you to visualize what your support dollars can do for Camp Hope. Your full tax-deductible donation will go to specific projects or items that are needed at Camp.
Each year, we will choose a project at Camp Hope to send your support dollars to; this will be the ALUMNI PROJECT. The project chosen may be a structure that needs fixing or a piece of heavy machinery or equipment that needs to be purchased. etc.
INAUGURAL ALUMNI PROJECT 2017-2018
OUT WITH THE OLD AND IN WITH THE NEW
For our Inaugural Alumni Project, we chose to replace one of the double ovens in the current kitchen. We are happy to announce that with the proceeds from t-shirt purchases and donations, we were able to reach our goal to purchase brand new, state-of-the-art Vulcan double ovens for the kitchen at Camp Hope!! We are so thankful to the Alumni for supporting Camp through the Alumni Association!!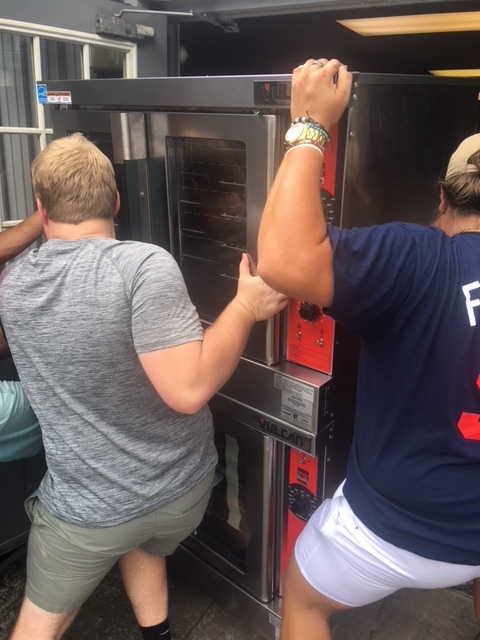 There are always needs at Camp Hope and as alumni, we are always happy to support and provide for these needs. From large donations and proceeds from the Camp Hope Golf Tournament, Camp Hope Alumni was able to make two important purchases for Camp for our 2019 Alumni Project - a PA system and a warmer for the kitchen. The PA system will help to improve communication around Camp for scheduled activities and even in emergencies. To facilitate meals, the warmer will provide an additional space to keep the delicious food at Camp warm until meal service.
Thank you again for your continued support of Camp Hope through the Alumni Association!!!